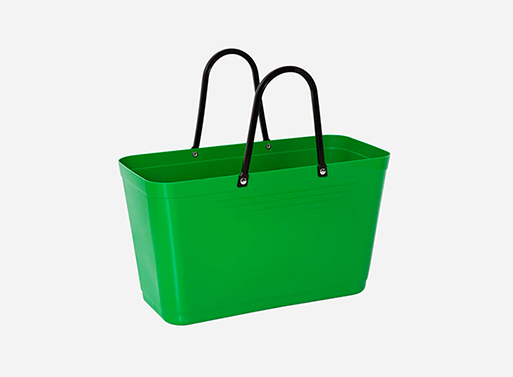 You know what's fun? Colorful, recycled, polyethylene totes that are very sturdy, because you can lug them around everywhere and not worry about messing them up. Take it to the beach, the grocery store, your local garden nursery, attach it to your bike, use it for kids toys, fill it with ice to cool down drinks, etc… it's a multipurpose tote that won't crumple no matter what you throw in it. You'll be happy to know that the green totes are made of sugar cane, which is super environmentally friendly (and a little more expensive).

"The large tote was originally designed in the 1950's by Perstorp AB, a pioneer in the field of plastics. Now produced by the designer's great grand-daughter's company Hinza."
Made in Sweden.
Available in 2 sizes: 17"³ x 7"³ x 9.75"³ tall. and 12.5"³ x 5.75"³ x 8.5"³ tall.
Available from
Plastica
, $34.00 - 50.00.