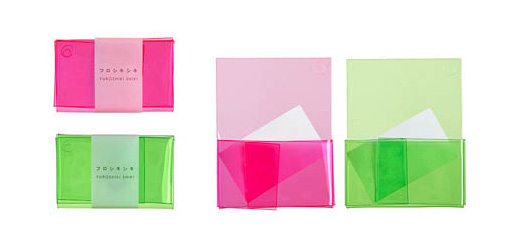 I've actually owned one of these for about two-ish years now (can't believe I neglected to post it), and have been pretty pleased with the function & use. The bright vinyl is cheerful and it's been nice having something so durable to carry around business and credit cards. So, there you go.
The "furoshiki shiki" (furoshiki style) is made out of one sheet of semitransparent vinyl "film." This sheet is turned into a card holder by folding it and making use of the adhesive qualities of the material. It is a practical material, easy to clean, and when washed with soap the material regains its adhesive qualities.
Available in Pink, Green, and Yellow.
Designer:
Samira Boon, 2004
$16.00, Buy it here.
or £9.50,
Buy it here.
Tags: pink