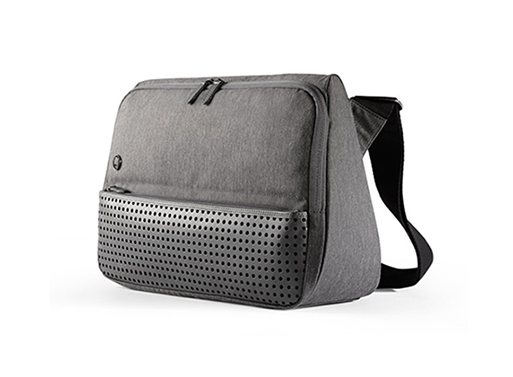 Messenger bags are okay, but what about one that won't tip over when you set it down? That problem is solved by Japanese brand Abrasus: a triangular shape keeps the bag upright and allows you a bird's-eye view of your contents when you unzip, allowing you to find your things efficiently. There are inside movable dividers for organization and an outside vented pocket allows you to see (and hear) smaller items.
Evernote Triangle Commuter Bag, $199.00
MATERIALS
Exterior: 65% nylon, 35% polyester
Exterior pouch: 100% leather
Interior: 100% nylon
Bottom: Tarpaulin with PVC coating to protect surface from being soiled
EXTERIOR DIMENSIONS
Width: 15.7" (40 cm)
Height: 10.25" (26 cm)
Depth at widest point of base: 5.1" (13 cm)
INTERIOR COMPUTER POUCH DIMENSIONS
Width: 14.5" (36.8 cm)
Height: 10.1" (25.6 cm)
Depth: .75" (1.9 cm)
Available from
Evernote
, 199.00.