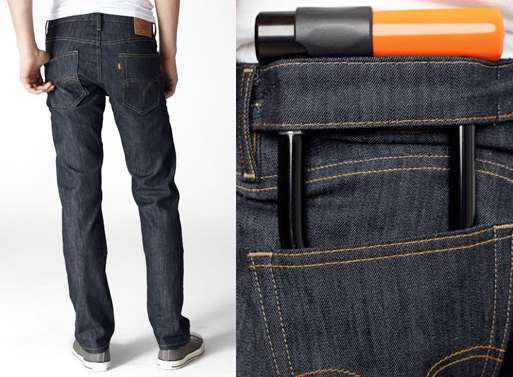 I'm currently writing this with a hole in the crotch of my pants. I have three other pairs of pants suffering from the same condition, all from the result of riding my bicycle. Levi's thinks they could help me with this. Recently launched is their Commuter series, a line of jeans with specific features for urban bicycle riders. Based on the 511 skinny fit jeans, they feature enhancements such as stretch fabric, a water-repellent & anti-odor finish, a built-in U-lock holster, a raised back to help with unwanted skin exposure in the riding position, a reinforced crotch gusset (yeah!),  and 3M reflectors for better night-time visibility.

I like to think of myself as a pretty serious commuter (year-round, car-less for two years, over 4000 miles riding round town), so I do have some initial doubts about these jeans, especially the water-resistance. However, seeing the biggest company in jeans catering to cyclists does give me hope, as most of the alternative options are either spandex, or extremely expensive niche brands. I'm definitely interested in giving these a try someday. If you're listening Levi's don't hesitate to send me a pair to review….
One more note to add: The Commuter jeans are only available in men's. What's up with that? Women ride bikes too.