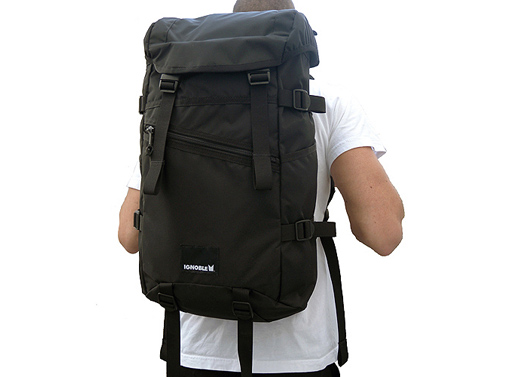 If you're not happy with current offerings at your local backpack supplier, take note of the Cora Classic Rucksack. Constructed from wear resistant 400D high density nylon, the Cora has a total capacity of 36 liters with the necessary padded shoulder straps and Airmesh back. It's obviously built with function in mind as there's nothing extraneous in its design, which suits those that prefer more utilitarian gear perfectly.
Made in the U.S.A.
Cora is hand assembled in small runs by a military-grade soft goods production facility.


For more details of the rucksack, visit IGNOBLE Bags.
Features:
– Padded Shoulder Straps and Padded Airmesh Back
– Adjustable Hood and Draw Cord Opening
– Large Main Compartment
– Internal Hanging-Pocket
– Internal Book-Sleeve
– Zippered Front Stash-Pocket
– Zippered Hood Stash-Pocket
– Dual Side Utility Pockets
– Side Compression Straps
– Bottom Bag Compression Strap
– Top Bag Webloop Handle
Specifications: *
Average Weight: 1 lbs 6 oz (624 g)
Bag Dims, Nominal: 11.25″ W x 20.5″ H x 8″ D **
Bag Dims, Actual: 11.25″ W x 26″ H x 8″ D **
Internal Book-Sleeve Dims: 10″ W x 12.5″ H x 5″ D
Total Capacity: 36 Liters
* All measurements are approximate.
**In use, Cora's dimensions will vary based on the main compartment load and adjustable hood settings.
Available from
IGNOBLE
, 164.00.
Tags: IGNOBLE