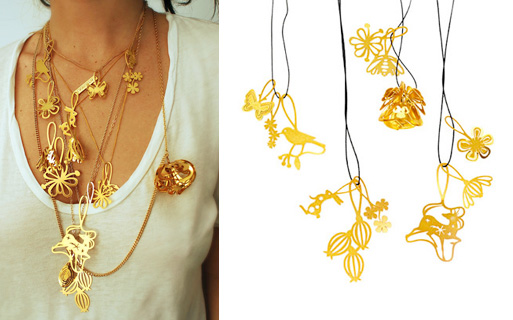 These have been a long time coming in the blogosphere. Choose between four different groups to personalize your 'jewry' look*.
Tord Boontje's Charming is an iconic nature-based jewelry collection. The 18K gold pieces, playfully representing creatures and flowers, embrace the delicate nature of fine jewelry.
The charms are integrated with a large hook and are designed to be customizable. Bundle a set on a chain or break the charms apart to further adorn any accessory.
Materials: 18K Plated Gold.

Sold in packs of three: $39.00, Buy it here.
*the word 'jewry' is used in reference to the mispronounciation of 'jewelry' that tends to proliferate on one of bravo's reality shows, just in case you were about to write me a angry email.
[posted by katie]
Tags: Gifts, Gifts $26-$50, Tord Boontje