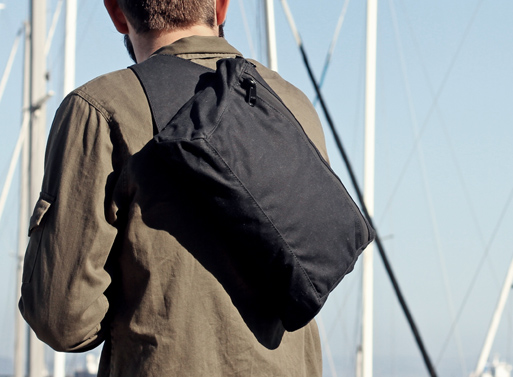 This bag toes the line between man-purse and messenger bag, and that's its exact magic. No need to carry a bag bigger than you need, after all, and you just look like a dork when you stuff too much stuff in your pockets. Just in case you had a fleeting thought that involved a belt bag (a.k.a. fanny pack) as a solution, let's just clear things up: yes, you will get punched in the face if you wear one of those atrocities. The fist may or may not belong to me. So, solve the issue safely and keep your face intact with the Axial from Modern Industry. It's handmade in San Francisco, California, using 10.10oz Martexin Original Waxed Canvas.
Available through themodernindustry.com in numbered limited editions. (Black : 100, Navy : 50, Ash : 50)
Dimensions: 15" x 8.5" x 3"
Features:
– Minimal 2-pocket design
– Adjustable winged messenger strap for stability
– Invisible YKK zippers for strength and style
– Natural canvas liner for easy pocket navigation
– Larger pocket optimized to fit 11″ MacBook Air and tablets like the iPad
– Individually numbered in limited edition colorways (currently black, navy, and ash)
– Constructed with Martexin Original Waxed Canvas
– Handmade by Modern Industry in San Francisco, CA USA
Available from
Modern Industry
, 125.00.