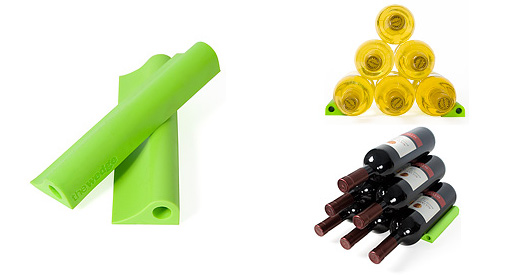 If you've ever tried stacking bottles in the refrigerator, you know how handy these would be. Even outside the fridge, it'd make for a very inexpensive wine rack solution.
You can use a single wedge for stacking against a wall, or a pair of wedges to create a sturdy pyramid of bottles or cans. Think of it as a virtually invisible wine rack. With just two Wine Wedges you can safely stack 6 wine bottles or 10 beer bottles. Wine Wedges also work on wire rack fridge shelves…Wine Wedges are precision-engineered from high-quality rubber and their sloping edges have been specifically designed to secure curvy objects.
Each Wedge approximately – 0¾"(H) x 1½"(W) x 6″(D)
Comes as a pair

$9.95, Buy it here.