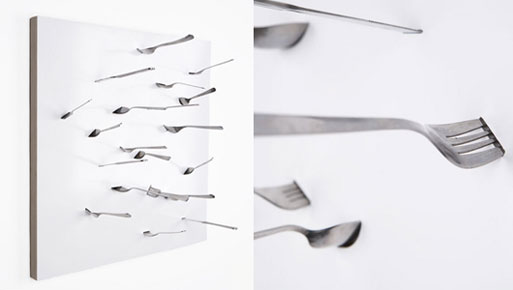 Thinking outside of the box, UtiliTILE has designed a creative solution to utensil storage. It's halfway between a useful fixture and an art piece, which leads me to think it's well worth some consideration.
"UtiliTILE: Dining is a series of simple-to-mount yet elegant lacquered wall tiles, each providing a specific storage function for the dining room. Have a buffet without having a table… A useful tile for storing your utensils in a fun and space saving way, as if hurled into the wall by a knife thrower. Setting the table is as easy as pulling out as many utensils as you need. Magnets ensure that the system works smoothly."
Materials: Baltic birch ply, lacquer.
24 W 24 H 1.25 D