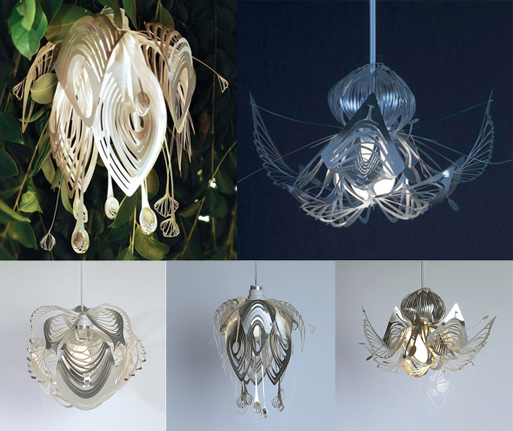 These are really quite beautiful lamps, and an altogether smart option for lighting considering the price.
Precision-etched metal sheets that transform into three exotic bloom-shaped forms. Future Flora
inhabits the intersection of nature and technology. Future Flora's contoured openings, fine details,
and silver matte surface all conspire to illuminate space by casting poignant radiance. Packaged
flat, Future Flora is assembled by connecting intricate metal sheets that comprise each design.
Designer: Tord Boontje
Rugiada: 9 1/2″ dia x 9 3/4″ H
Nadine: 9 3/4″ dia x 10 3/4″ H
Laure 12 1/2″ dia x 8 1/2″ H
Available from
A+R Store
, 84.00.
Tags: Artecnica, Tord Boontje