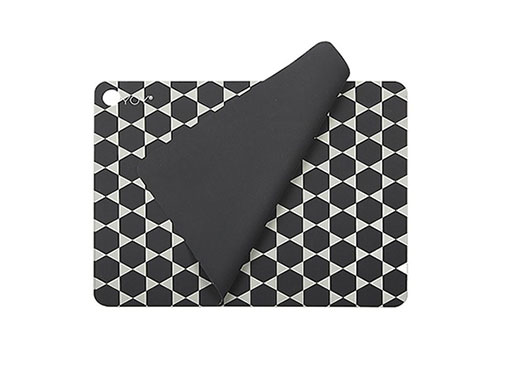 Messy eaters, rejoice, for OYOY has some nicely patterned silicone placemats to protect your tabletop from yourself (and/or kids) and guests who tend to spill and splatter. And, with four different options, you might just be tempted to get several patterns and mix them all up, for the patterns are made of varying sizes of lovely graphic triangle print: light grey with white triangles, rose silicone with black/grey triangles, grey/black silicone with a cool grey star print, or oceanblue with a graphic cool grey star print.


from Danish brand OYOY; primary designer is Lotte Fynboe.
Punched out circle in the corner.
Comes in a set of 2 pcs.
Material: 100% Silicone, Size: w 17.5x h 13.25″
Available from
Huset Shop
, $28.00.