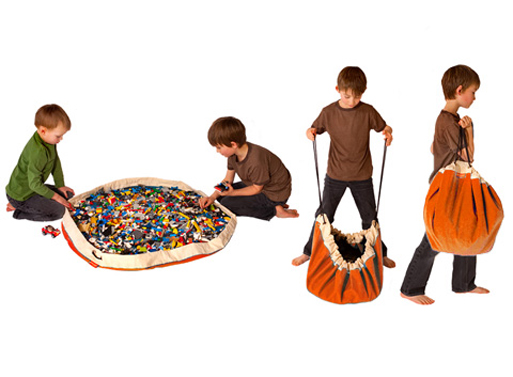 Sadly, the retailer (spoonsisters.com) we originally linked to when we posted this Swoop Storage Bag back in 2011 has closed its virtual doors. Not to worry, we found another place that carries it, with other colors and sizes, no less.
With the thirtysomethings now having kids en masse, the complaint of toys taking over an entire home is more often heard than not. How in the world to curb this crazy emesis of plastic mess? Perhaps this storage bag/play mat could help. You simply 'swoop' up everything into the bag by pulling the nylon cords and store it away. Also, if you're thinking you need a larger version, it should be noted that the Knapsack by Fatboy could work. Just be careful to remove the kids before tying it up.

Machine washable.
From our archives; originally posted Nov 7, 2011.
Available from
Vault
, 48.00.