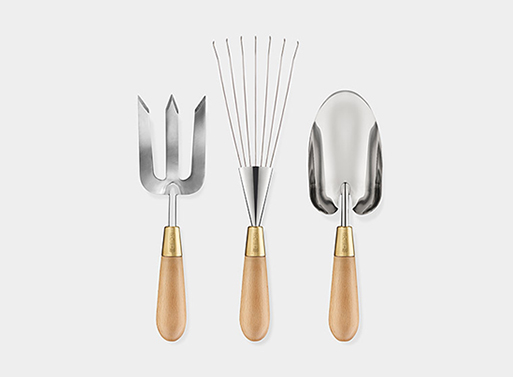 How about we get a head start on spring gardening? Being in the market for garden tools myself, I've noticed quite a bit of 'stylish' garden tools with bright colors and patterns. Nothing wrong with that, of course, but if we're cut from the same sort of cloth, you might just appreciate the no nonsense approach of stainless steel, solid brass ferrules, and natural beech wood handles of these garden tools. Plus, the Hand Rake is notable in that the springy tines are designed to avoid damaging new shoots while gathering leaves.

$35.00 – $38.00 each.
Materials: Stainless steel, brass, beech wood
Designer: Sophie Conran
Available from
MoMA Store
, $35.00.
Tags: Gifts, Gifts $26-$50