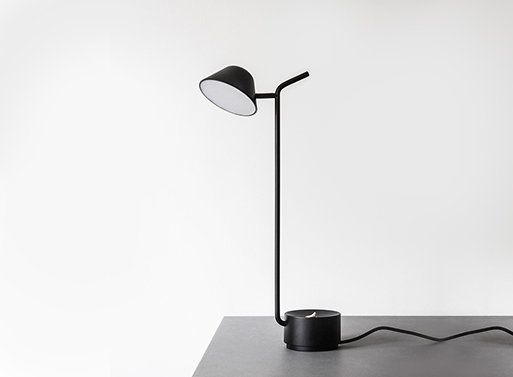 The Peek LED Table Lamp is a cute little thing, isn't it? It swivels 360° around its heavy metal base and has an adjustable shade for the right diffused-yet-direct light. Simply touch the tip of the stem to dim the light to your preferred brightness. Look closer and you'll see that the base has a concave top that can hold smaller items like paperclips, jewelry, and coins. Could it be the perfect companion to your desktop or bedside table? I'd say so.

Design by Jonas Wagell, 2015.
Made by Menu A/S (also available to purchase directly from Menu).
Plugs into standard US outlet.
Dimensions: 5.9″D X 21.7″H
Material(s): Powder-coated steel or aluminum
Lamp Type: LED
Available from
YLighting
, $349.95.