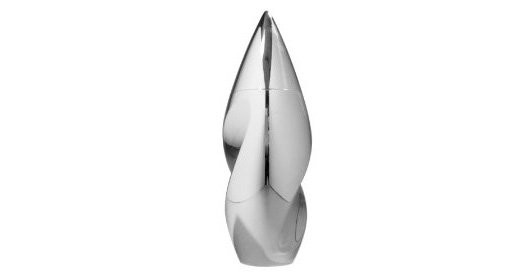 Talk about a some serious cocktails, this spiral shaker has some sharp curves (and point) to make handling easier. It looks slightly scary, but I'm sure it does the job extremely well.
The twisted, sculpted sides of the shaker increase the ease of handling the shaker when moist, and beautifully flow into the pointed, cone-shaped top. Made of sand-cast metal and polished to a bright mirror finish, the shaker retains cold remarkably well and can be thoroughly chilled in a freezer before filling with martini ingredients. A thin black rubber ring is integral in the lid and in the removable strainer, to make the press fit nice and snug. With a 16-ounce capacity and height of 10 inches, the shaker comes gift-boxed and ready to impress a favorite cocktail maker.
designed for Nambé by Fred Bould
5 x 5 x 12.5 inches

$144.95, Buy it here.
[via uncrate]
Tags: Gifts, Gifts $100+