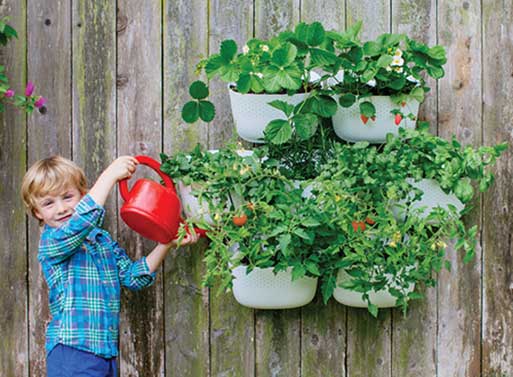 It's Earth Day, and that means you should probably assess what you can do to make the world around you a bit greener. Maybe that means using less water, maybe it means using mass transportation (or carpooling) a little more, but whatever you do, do something. Maybe you could plant a few more herbs and veggies in or around your home, which will go a long way towards reducing your reliance on grocery store fare.
If that sounds like a good idea, let me point you towards Woolly Pocket's Living Wall Planter 2. It's ideal for vertical gardening, as it has a compact shape that's easier to hold, lift and hang. An integrated watering well keeps plants watered for up to two weeks and the front and back sides are vented so that roots can breathe. The Wall Planter can live indoors or out, as there's no need for drainage. And, if your thumb is definitely not green (or you're flush with cash), consider the Woolly School Garden 2 for your local school (see below).

Living Wall Planter 2 – Four Pack, $59.99
Planter Dimensions: 8" H x 11.75" W x 7" D
-Soil Volume: 0.25 cubic feet
-Plant Capacity: (2) 6" plants & (1) 8" plant
-Max weight: 30 lbs
The Woolly School Garden 2 ($499) includes everything a school would need to make an outdoor garden classroom. It includes 50 Living wall Planter 2s, instructions, template, universal fasteners, zip ties, and Woolly School Garden curriculum. An automatic drip irrigation kit is optional ($150).
Available from
Woolly Pocket
, $59.99.