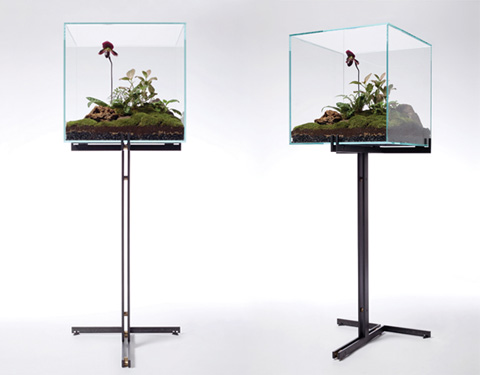 Oh my, have you seen this? Found while perusing images for the litill terrarium, this glass box is crazy elegant. Finely crafted indeed at $9,500.00. Ouch.

"Lindsey Taylor Design and Atlas Industries introduce 'ladyslipper', the first in a new line of terrariums, to be called the Wardian Case collection. In this collaboration, Taylor and Atlas seek to recapture the flavor of the Victorian Wardian case, forerunner of the modern terrarium, as both a finely crafted piece of furniture, and a piece of living art, an object of fantasy and wonder. ladyslipper presents a lush environment, planted with the orchid from which it takes its name, ferns, mosses, and other tropical plants, poised on an elegant base of steel and bronze."
For more info: Atlas Industries
Custom specifications available.
Available at Partners & Spade, NYC
Available from
Partners & Spade, NYC
, 9,500.00.