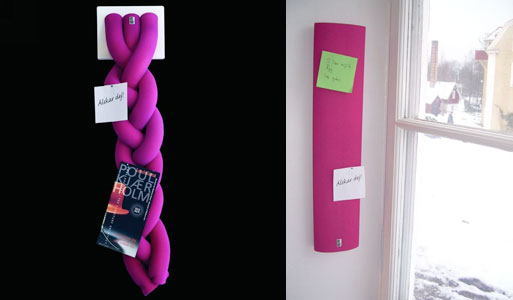 Do you need a notice board for your thoughts and messages? Here's two that could fit into a tight vertical space, plus, they're pink (also in red and black respectively) and on sale (because if you need a notice board, why not pink and why not get one on sale?).
Innersmile Kringel-Kari Notice Board, $85.00 $51.00,
Buy it here.
Kringel-Kari is perhaps the most innovative notice boards every made. This is an enjoyable way to remember a variety of things on a hectic day. Length: 29.5″, Width: 7″. Made of soft foam. Available in red or pink.
Innersmile Pillar Notice Board, $50.00 $27.50,
Buy it here.

finally a board for small and narrow wall spaces! With it's slimmed design, the Pillar is perfect for the small household or office, but also works nicely as a compliment to larger notice boards. Made of soft foam and available in either black or pink. Length: 23.5″ Width: 5″.
[posted by katie]
Tags: pink