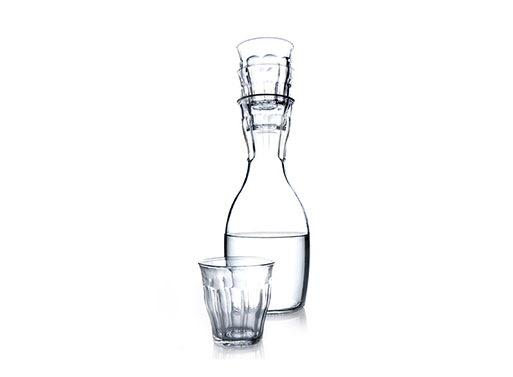 This carafe set has been around a while, yet we all need reminding that there's no need for trays when it comes to refreshments. Just stack the four bistro glass tumblers on the carafe's neck to make transport easy from the kitchen to table. And, don't stop at water- the updated (slightly shorter and wider) carafe available through the Royal VKB webshop is perfect for decanting and serving wine.


Designed by Kaptein Roodnat.
Set includes 4 glasses plus carafe.
Dimensions: Measures 8.7″ wide by 4.8″ long by 11.6″ tall; 2.6 pounds
Shorter/wider version available for € 19,95 at the Royal VKB webshop.
Dimensions: ø 14.4 x 32.6 cm (5.5″ x 12.8″)
Available from
Casa.com
, 29.33.
Tags: Royal VKB