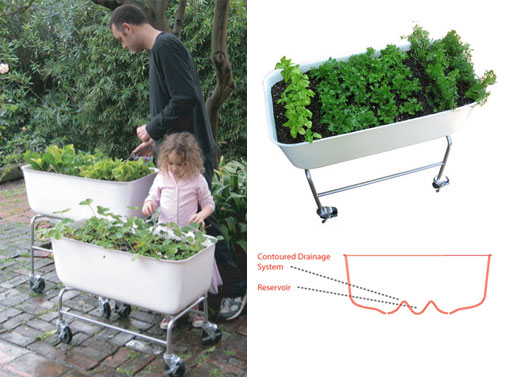 What looks like a small bath tub on wheels is a growing space for an edible garden. It features a special contoured base that drains water quickly and evenly to prevent plants from over-soaking, but also has a central reservoir where a small amount of water collects to keep the soil moist longer. Comes in a Short or Tall configuration, and is priced at $150 and $160 respectively.
Manufactured in Los Angeles County.
Designer: Food Map

Materials: 100 percent post-consumer recycled HDPE plastic. Metal tube frame with weather resistant powder coating.
Dimensions:
Short; height 23.25″ width 15.25″ length 33″.
Tall; height 30″ width 15.25″ length 33″
Available from
FoodMap Design
, 150.00.
Tags: eco-friendly