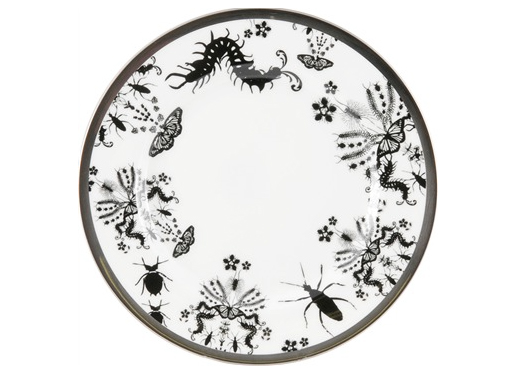 How about some creepy-crawlies alongside your dinner? Might sound unappetizing, but the pattern is delightful. Black butterflies and beetles provide such a nice pattern on bone china; a few of these plates or mugs are sure to find their way into any entomologist's (amateur or professional) hands. The mug would make an especially excellent gift, by the way.

Design: Monica Tsang, 2009
Manufacturer: The New English, England
Material: Bone China
Entomo Black Bread Plate (above), $75.00
Entomo Black Cake Plate (below), $88.00
Entomo Mug, $26.00
Available from
Switch Modern
, $26.00 and up.
Tags: Gifts, Gifts $26-$50