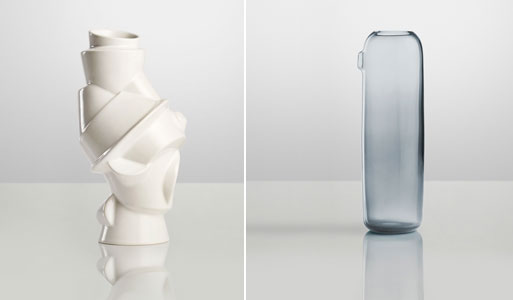 Two new(?) items from Muuto that I'm particularly liking are this vase and carafe.
Closely Separated Vase: (also available in yellow, 10.6″ h), $162.00,
Buy it here.
by Michael Geertsen for Muuto
Abstract bowls, plates and cups are merged in an intuitive way. Reminding us of the beauty in disharmony and how old things can lead to new, if we change our perspective. The object works on its own, but is given a function if flowers are added.

I'm Boo Carafe: (3.39″ dia. x 10.8″ h), $94.00, Buy it here.
by Norway Says for Muuto
Boo is like the skin, or a balloon surrounding the water with openings that tell the simple story of fluid motion in and out of the glass. The carafe exudes a strong personality, as if it's saying "I'm Boo, who are you?"
[posted by katie]
Tags: Gifts, Gifts $100+, Gifts $76-$100, Muuto