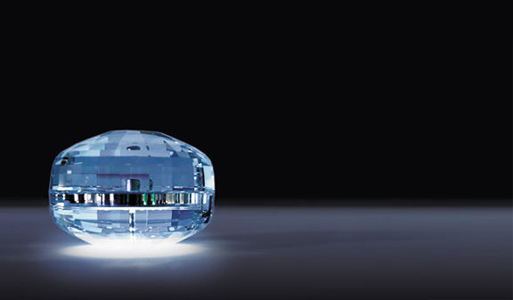 Beautiful, right? It's also rechargable, which means no unsightly cords to get in the way of all that lovely light. It also costs a pretty penny, so be prepared.
Cailloux are solitary Swarovski crystals with a soft luminous presence. Fascinated by the remarkable aspect of the crystal's shape, Ronan and Erwan were inspired to create unique Stone chandeliers.
designer: Ronan and Erwan Bouroullec
materials: crystal; rechargable battery-powered LED lights (8 LED uplights, 8 LED downlights)
notes: A charger is supplied with the Caillou light which charges an internal battery pack allowing the LED lights to be on for up to 8 hours.
dimensions: diameter: 4″, height: 2.75″

$1,390.00, Buy it here.
Tags: Ronan & Erwan Bouroullec