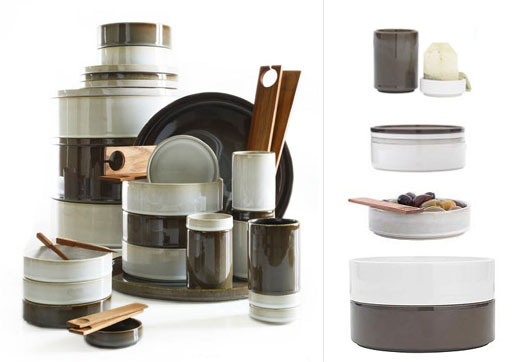 This stoneware collection seems to balance a modern aesthetic with a natural sensibility. The plates can double as lids for bowls, serving bowls are oven-safe casseroles, and (my favorite) the cups have a lid that's perfect for holding a tea bag or small snack.
"Combining versatility, smart design and good stewardship of the earth's resources, the stoneware assortment comprises several differently sized "cylinders." Although each cylinder size has been given a name, that doesn't need to dictate its use. The stoneware's enamel is hand-applied and made entirely from all-natural minerals. The coordinating utensil set has a pared-down aesthetic and is crafted from sustainable wood from well-managed forests. Stoneware is dishwasher, oven and microwave safe. Made in France."
crafted from natural stoneware and mineral enamel.
Cup, $15.00
Cup Lid/Tea Bag Holder, $15.00
Olive Bowl, $15.00
Salad Plate, $25.00
Salad Serving Bowl, $65.00
Dinner Plate, $35.00
Bowl, $25.00
Serving Bowl, $70.00
Appetizer Picks (Set of 6), $25.00
Adónde Dessert Spoons (Set of 4), $25.00
Adónde Tongs (Set of 2), $20.00 – $30.00