Commuters, your prayers have been answered. IGNOBLE brings us the Lorna backpack/briefcase, an urban commuter bag that's perfect for lugging your laptop back and forth from the office. Like the other IGNOBLE bags, it is free of unnecessary adornment, making it a perfect choice for those that value function and simplicity in their wardrobes. An easy shoulder strap restraint system allows the bag to quickly convert from a backpack into a soft, side-carry briefcase.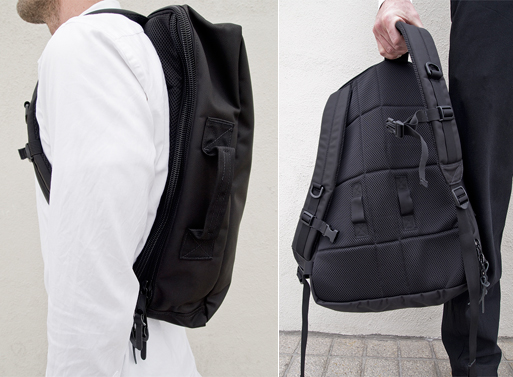 IGNOBLE was kind enough to rush a Lorna Backpack to me in time for a 5 day trip I had planned, and I'm quite pleased with its performance. I was actually able to use the Lorna as my main carry-on, and if you're curious, this is what I was able to fit: 6 t-shirts, 2 thin jeans, pajamas, 5 pairs of socks and other underthings, 1 pair of sneakers, 1 airport approved liquids/gels/creams bag, 1 small makeup/jewelry bag, medium Moleskine planner, laptop cables, headphones, and last, but certainly not least, my laptop. It was quite heavy, I'll admit, as I am of a smaller frame, but the ease of not pulling around a roller bag somehow made up for it. Now, if you subtract all the clothing and just consider its use for a commute, it gets my two thumbs up. The laptop sleeve is well padded, and the main compartment is roomy enough for files plus sneakers and a change of clothes for the gym.
IGNOBLE bags are quality made in the U.S.A., hand assembled in small runs by a military-grade soft goods production facility.
Features:
– 1680D Ballistic Nylon and Ripstop Construction
– Padded Shoulder Straps and Padded Airmesh Back
– Soft Exterior Briefcase-Style Handle
– Shoulder Strap Restraint Loops for Conversion to
Side-Carry Briefcase
– Large Dual-Zippered Main Compartment
– Large Dual-Zippered File-Folder Compartment
– Zippered Top Exterior Stash-Pocket
– Internal Hanging-Pocket
– Internal Book-Sleeve
Average Weight: 1 lbs 10 oz (739 g)
Bag Dims: 13.5″ W x 18.5″ H x 6″ D
File Folder: 12.5″ W x 18″ H x 3″ D
Internal Book-Sleeve Dims: 12″ W x 14.5″ H x 5″ D
Total Capacity: 25 Liters