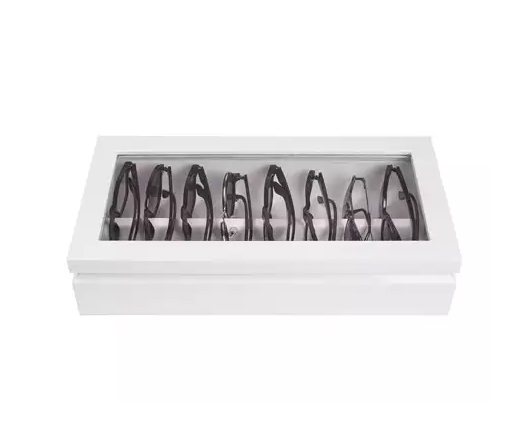 I know, I know, organizing your eyewear is not at the top of your list. However, if you have more than three pairs of good glasses/sunglasses, chances are that you often fumble around with cases and worry about scratches. So, maybe you need an OYOBox; it's a box just for your eyewear. A glass lid keeps dust out while a leatherette interior has one centered ridge to keep glasses upright and aligned. I've seen a sample in person and I'm impressed. And, yes, you guessed it, the boxes aren't cheap, but your glasses aren't either, so why not keep them safe in a nice, lacquered box? Maybe put the small one on your holiday wish list?

-Handcrafted with seven layers of lacquer.
-Made out of durable compressed wood; stainless steel hinges.
-Shatterproof top window.
-Creamy leatherette interior and soft velvet underside.
Available from
Neiman Marcus
, $135.00 - 350.00.
Tags: Gifts, Gifts $100+