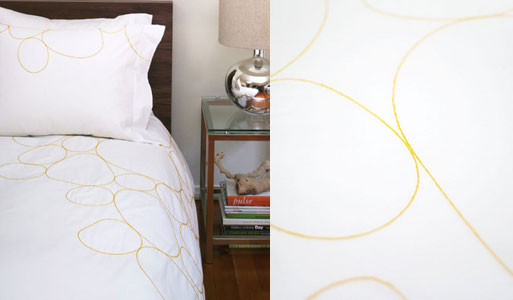 Sometimes simple white bed linens is all a room needs, but in this case the circle embroidery provides just enough detail to ward off any accusations of being boring.
Sanford Burrows' streamlined designs are meticulously embroidered onto their linens, adding texture and warmth to each piece. The base is an Egyptian cotton fabric produced by one of Italy's leading textile companies to ensure the finest quality and craftsmanship.

While techniques are traditional, Sanford Burrows designs are decidedly modern. White space and clean lines don't overpower, but become an integral part of your design landscape.
Standard Shams Pair, $148.00
King Shams Pair, $166.00
Queen Duvet & Shams Set, $591.00
King Duvet & Shams Set, $657.00