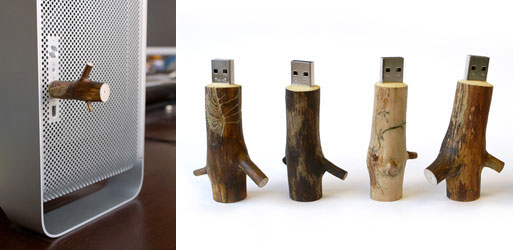 Wooden Memory Sticks
Written by kris & katie on October 2, 2007. Permalink
These are quirky, and I mean that in a good way. They're USB memory sticks, encased in sticks that you could basically find in the woods. I like the way they contrast so decidedly against the hardware. They'd certainly be a nice gift for someone who would appreciate the irony (they come in a nice gift box too)…
USB memory sticks are always nice to have around when transferring files from computer to computer. These sticks are made to stand out against its natural environment of computers and offices. The sticks are picked from the woods and are manually selected on their natural beauty,
professionally handmade into unique and personal USB memory sticks.
Type: USB 2.0 Memory stick
Memory size: 128 Mb, 256 Mb, 512 Mb and 1 Gb
Dimensions: Approx. 2 x 2 x 10 cm.
Packaging: White giftbox
Suitable for Windows and Mac.