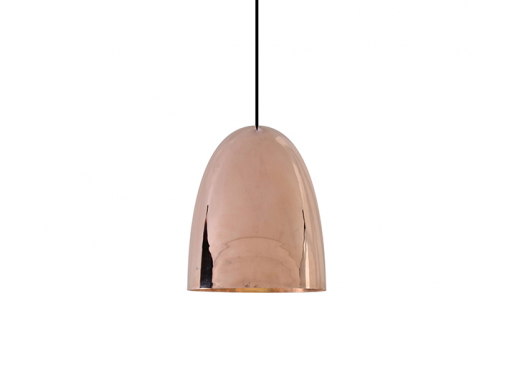 The nice thing about this Stanley 3 Pendant, other than the fact that it's hand-spun in Birmingham and made of solid polished copper, is that it's not immediately recognizable. Often certain pieces of certain designers will be used so much that you tend to get sick of it. So, no matter how wonderful a light fixture is upon its initial release, after seeing it twenty times in twenty different spaces, it looks less special and more like a stamp of 'I-have-a-designer-light-fixture'- do you know what I mean? So, back to this pendant. It's so pure and unadorned that the material itself steals the show, and that is incredibly refreshing. Available in three different diameters and also a hammered finish.

The lamp is UL listed and suitable for commercial spaces.
Manufactured by Original BTC; their factory in the UK is dedicated to green manufacturing practices.
60W (max) incandescent or compact fluorescent bulb. Black braided cable and copper ceiling canopy.
Shown above: Stanley 3 Pendant, $835.00
Dimensions: 12.6″h x 10.4″dia – 5′ Cord
Stanley 2 Pendant, $695.00
Dimensions: 11″h x 9″dia – 5′ of Cord
Stanley 1 Pendant, $595.00
Dimensions: 7.85″h x 7″dia – 5′ Cord
Available from
HORNE
, 595.00 - 835.00.