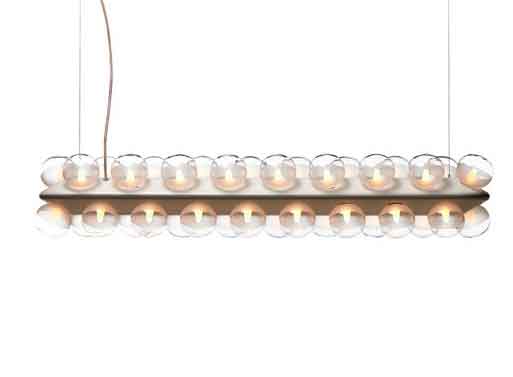 Do you belong on stage, where the lights are bright and shining perfectly upon you? Too bad the casting directors don't always agree, but you can put that behind you and drop a couple of grand on the Prop Light Double Suspension Light from Moooi. Specially designed LED optics give off the warm illumination similar to vintage vanity lighting, so it'll give you the glamour without the headache of agents and rehearsals. It's such a modern take on classic theater lighting, you can guarantee your audience guests will always applaud your excellent taste.


Design by Bertjan Pot, 2013, from Moooi.
Structure in high impact polystyrene and PMMA, with blown glass globe diffusers. Includes matching white steel pebble canopy.
Dimensions-
Double: 39″L X 7.3″W X 6.9″H
Double Horizontal: 39″L X 7.3″W X 7.3″H
Double Vertical: 7.3″L X 7.3″W X 39″H
157″ max cable length
Canopy: 6.3″D X 3.2″H
Material(s): HIPS, PMMA and Glass
Lamp Type: LED
Available from
YLighting
, $2,491.00.