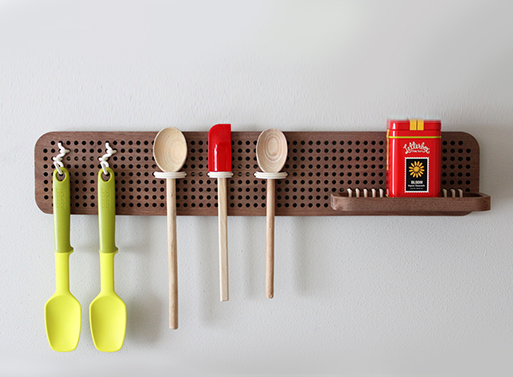 The old peg board: we all know it has its usefulness, but it could stand for a makeover. That's the thought behind Human Crafted's Peg Board. Made by hand from machined walnut, each board also comes with a bungee cord, which gives the board various storage functions. Choose a few accessory hooks and you have more possible customizations for specific items (kitchen tools, keys, etc.). Combine all three sizes for a bigger board, or just choose one for your essentials.
Peg Board (long), $75.00, shown above:
– Made by hand and machine in the USA
– 26 inches x 5 inches x 0.75 inches
– Includes 5 feet of bungee cord
Designed by Human | Crafted (Philip Stankard and Jon Alling)

Peg Board (small), $45.00
Available from
Human | Crafted
, 45.00 - 75.00.