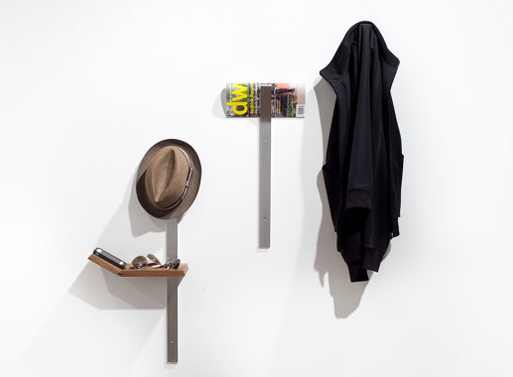 If minimal is your middle name, then this coat rack from Eastvold Furniture might be just the thing for your entry way. No floor space is required; the set of three aluminum bars attach to the wall allowing for coats and bags to be hung from the bend at the top. Here's where the minimal comes in- one bar has a "palm" wood shelf (measuring 13″W x 5.5D") for keys, phone, wallet, etc… if your pockets won't overwhelm that, then you're good to go. Sold as a set, and custom lengths are available upon request.

Designer: Christopher Dela Pole
Materials: Aluminum, Walnut
Dimensions:
20" x 1.5" x 3/8"
22" x 1.5" x 3/8"
31" x 1.5" x 3/8"
Walnut Palm: rests at 13" up from the bottom of the bar.
13"W x 5.5D" x .75"
Available from
Eastvold Furniture
, 290.00.