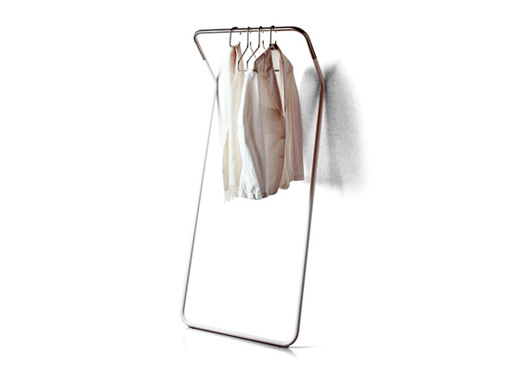 I've had this coat stand bookmarked for what feels like forever, and only recently has it become available through a US retailer. The Lean-On coat stand, you guessed it, simply leans against a wall, creating an easily movable storage option. Unfortunately, as is often the case, it is significantly higher in price and most likely out of the average person's price range. Sorry. Check out the prices below, and we can both commiserate at how unfair pricing discrepancies can be when things are shipped overseas.

296.00 € ($385) at Connox.com.
$675.00 at Mockett.com
Oh, and, of course, be sure to take a look at the "Lean On" Hanger for $41.10. It is suitably modern and oh-so-cool.
Designer: Peter van de Water
From the Dutch design company Cascando.
Suitable for eight to ten clothes hangers.
Made from brushed stainless steel combined with a high gloss-white frame.
Available from
Mockett
, 675.00.