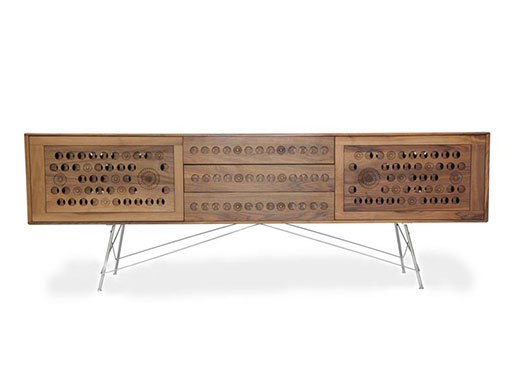 Whoa, do you see all the decorative hand-carving on this cabinet? Maybe you shy away from embellishment on your larger pieces of furniture, but I find myself drawn towards the details. Made by the company Manulution and designed by Salih Teskeredzic, each cabinet is made from solid European wood (walnut and cherry logs are bought directly from villagers in Bosnia) and is produced in two versions: one with a spindly stainless steel base and the other with wheels. Read more about the company's history on Manulution's website.


The Wave Cabinet is part of the Wave Collection that also includes the Wave Dining Table, the Wave Dining Chair and the Wave Lounge Chair.
Designed by Salih Teskeredzic, manufactured by Manulution.
Materials: Solid Wood with Wheels or Stainless Steel Legs.
Dimensions: (inches) 19.7h x 78.7w x 17.7d
Weight: 181 lb
Available from
2modern
, 4,608.00 - 5,776.00.