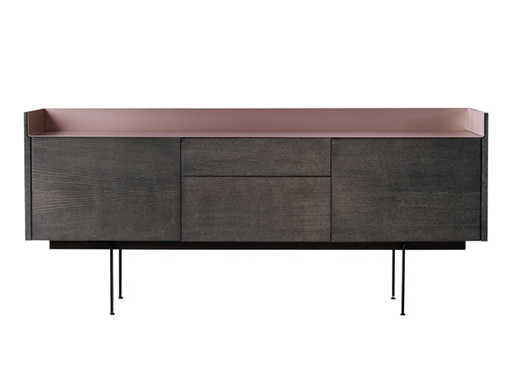 Few things manage to hit just the right note of elegant simplicity, but the Stockholm Sideboard by Mario Ruiz for Punt is perfectly pitched. Quality materials, fine detailing, and the absence of drawer pulls creates a minimal luxe look, while the elevated sides add an extra shelving space that will keep books and artifacts* safely placed. Something like this is surely customizable, yes? Of course. Choose between pale rose or gold for the top shelf edging and white, black, stone, or dark brown for the slim legs. See the various veneer options below.

Designer : Mario Ruiz
Year of Design: 2012
Material : E1, MDF, natural wood veneer, anodized aluminium & epoxy paint
Made in Spain
Need bedroom storage? The Stockholm Dresser is equally impressive, $3,745.00.
*No artifacts in your collection yet? Don't worry, as soon as you buy this sideboard, you will immediately belong to the 'tastefully affluent' class, where expensive art and collectibles suddenly appear from thin air and then multiply just enough to fill your home. That's the rumor, anyway.
Updated price and link to a US retailer; originally from our archives (posted Aug 30, 2012).
Available from
A+R Store
, $4,320.00.