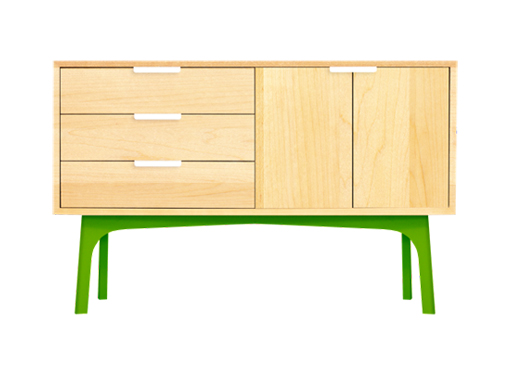 Sideboards. Maybe you've not found the perfect one yet, and are more than a little tired of searching for just the right legs/drawer/door configuration. If so, may I direct you towards wfour design*, a small company located in Eugene, Oregon that specializes in furniture that's made to fit your needs.
Want doors on the left and drawers on the right? A specific height? A blue base? An orange base? You say the word, and chances are, you'll get just what you want for around the same price listed. Sounds pretty good, doesn't it? Email wfour design directly to discuss which piece you'd like to customize (more info on their FAQ page). Also, make note of the encouragement wfour gives for spray painting the legs when you want a color change; it's nice to know they understand those of us that like to switch things up.

Pictured above: wfour XS Sideboard, $2079.00
Dimensions: 48"W x 16"D x 30"H
You have your choice of: walnut, maple, cherry, or oak; standard or preferred knobs; and paint color.
All images below: wfour Sideboard, $2549.00
Dimensions: 60"W x 16"D x 30"H
*Yes, wfour design is an advertiser (see their ad over there in the sidebar?), but they aren't paying us to post this.
Available from
wfour
, $2079.00 - 2549.00.