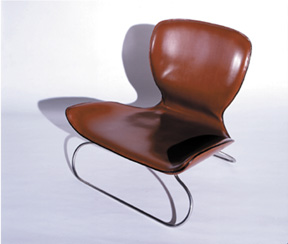 This chair (and it's brothers and sisters) are sure to become the collector's new itch to scratch (mark my words). Sure, they're pricy, but what do you expect?
"Each chair or stool is handmade, and the vegetable-dyed, environmentally-sensive, supple, hand-stitched leather will only improve with use and age."
Stainless steel base.
Available in black or brown leather.
Swivel Chair rotates full 360 degrees.
Low chair: Seat H 7.8″ x W 20.7″
Swivel chair: Seat H 16.4″ x W 18.3″