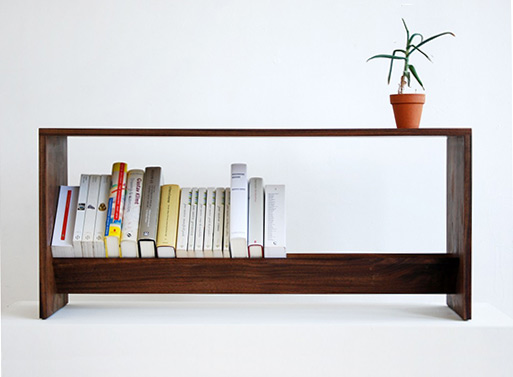 Do I really need to explain how this bench is worth every cent of its price tag? Seating + Books = (!). It has an angled shelf for books (why, yes, I am nerding out a little bit over that detail). That will give you a perfect place to keep your favorites, tucked away under a handy seating surface.

Maybe it goes in a hallway (don't even dare to think about putting shoes on it) or maybe it lives at the end of the bed. Either way, it's a dual-function piece that would fit into any minimal/modern interior with ease. There's also the LBR-1, a smaller nightstand/stool size that will be your best friend. I might have to post that separately just so it gets the attention it deserves.
Made of FSC-certified solid American Ash or Walnut.
Made by hand in Oakland, California.
18"³ H x 40"³ W x 12"³ D
Shipping is free in the continental USA.
Please allow 3-4 weeks for delivery.

The aforementioned LBR-1, $750.00, the smaller nightstand/side table/stool size. 18"³ H x 16"³ W x 12"³ D
Updated price and link; originally posted May 31, 2016.
Available from
BOOK/SHOP
, $1,250.00.