Update: FYI, a reader has emailed in saying this company is not returning calls or emails, and that no product has been received after ordering numbers in January. -katie (04/03/13).
If your house facade needs new numbers, be sure to check out these options from Canadian company numbermyhouse. Best of all, no drilling is required, as they have a super strong peel-and-stick adhesive backing. If you happen to have rockwork or another tricky surface, you'll need to add some stand-off kits ($5 per letter) to accommodate the unevenness. You can also customize lowercase letters or a special font, just email them for a quote. Pick any size from 6″ to 16″ tall.

Materials: laminated plastic composite. (The silver numbers have a clear coated brushed aluminum facing.)
Sizing: 6″ tall ($18.00 each) up to 16″ tall ($65.00 each).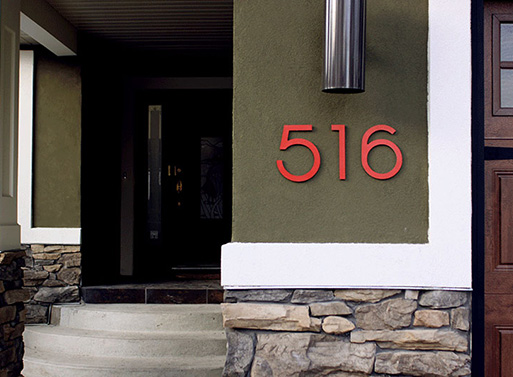 Available from
numbermyhouse
, 18.00.