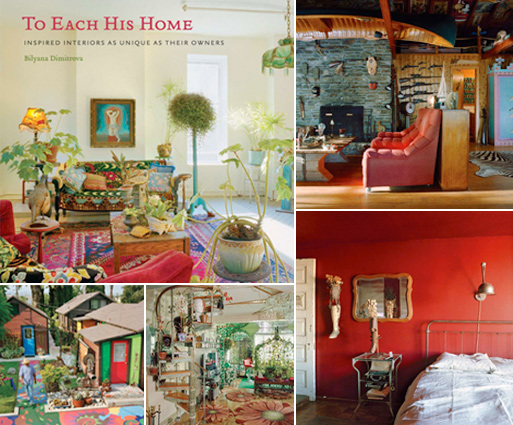 You'll not find shelter magazine type homes here, instead you'll be treated to one of a kind homes that speak more about their owners than this season's trends. It's a house tour of quirky, layered interiors, and it'll give you permission to do more with your own home after viewing what these home owners did with theirs…not that they're all super crazy, it's just that each owner doesn't seem particularly interested in making their space look like anything other than a reflection of themselves.
In To Each His Home: Inspired Interiors as Unique as Their Owners, photographer Bilyana Dimitrova takes readers on a tour of eight extraordinary homes that unabashedly express the personalities of their free-spirited owners. Dimitrova's carefully crafted color photographs, accompanied by brief interviews with each homeowner, create vivid portraits of these one-of-a-kind American spaces.
To see more of Bilyana Dimitrova's work, visit her site here.
$45.00, Buy it here or for $29.70 here.