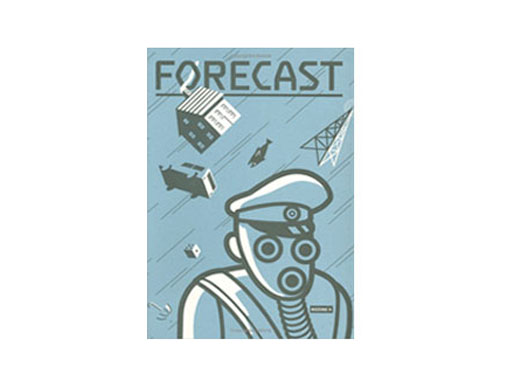 This book has a kind of wry humor; it's packed with all sorts of graphics and comics that show just how bad our world could get, and you find yourself chuckling along until you realize that some of the events aren't all that far-fetched, and in fact, some are actually happening. It's a little disconcerting to have disasters drawn in a friendly sort of way, yet I suppose that gives a special sense of visual punch and irony. A few of my favorite highlights: Julia Hoffman's Let's Get Carbon-ated questionaire, Johnny Sweetwater's Endangered Species chart, the Nozone Survival Kit by Jesse Gordan (photographs by Tony Cenicola), and the personified line charts and graphs crying over data, hiding their heads under the covers or putting their heads into a stove.
Conspiracy theories, pending Ice Ages, potential revolutions, viral epidemics, and other doomsday prophecies: wherever you look—from the cover of Time magazine to the weird weather outside your window—the message seems universal: the Earth our children inherit will certainly be nothing like the one we currently inhabit. UN reports and newspaper articles are illustrated with dry charts and graphs predicting technological, economic, and ecological transformations that are already dramatically altering the way we live. Forecast revisualizes these abstractions about everything from our environment to our waistlines, from the stock market to the Middle East through the eyes of cartoonists and graphic
designers who have made comics with a conscience…
$24.95, Buy it here.