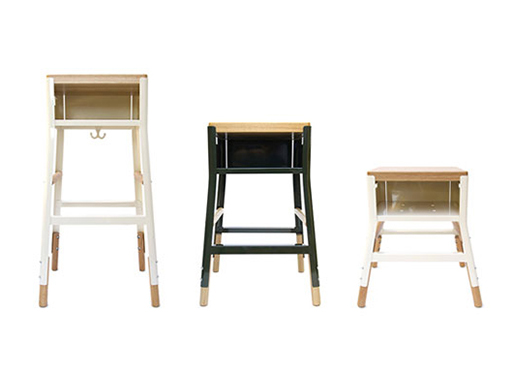 These stools by Scout Regalia have storage space underneath the seat, which give them a schoolhouse sort of look and feel. They're made of white oak and powder coated steel, so if they were put in a room full of crazy kids they'd probably come out looking just fine at the end of the day. Available in 3 sizes and 2 standard colors (Forest Ranger Green or Cream), with custom colors available on request.

Made in Los Angeles.
Specifications:
Powder coated steel & white oak hardwood
Seat Dimensions: 11" x 13"
Cubby Height: 4 1 ⁄ 2"
Junior Ranger Stool, 18″, $360.00
Standard Ranger Stool, 24″, $375.00
Tall Ranger Stool, 30″, $395.00
Available from Scout Regalia.
From our archives; originally posted Jun 21, 2013.
Available from
Scout Regalia
, 360.00 - 395.00.