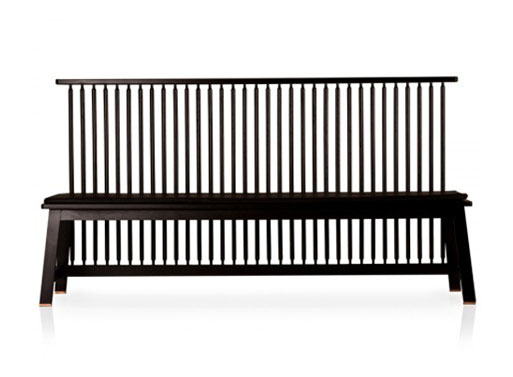 Ever since this collection was first shown in 2009, I've been waiting to see it show up on a US retailer's website. Well, look what I just came across: The Future Perfect now carries quite a few pieces, and I dare say it's been worth the wait.
Ilse Crawford's spare 'Seating for Eating' pieces are contemporary interpretations of traditional seating and she describes them as "reassuringly familiar but carefully detailed". Perhaps my favorite of the collection is the tall Settle Bench with its high back; it gives a space an intimate feel without blocking light or the view.
Shown above: Bench With Back, $2,195.00

Designer: Ilse Crawford of STUDIOILSE for De La Espada
Solid chestnut, with copper feet.
Handcrafted by De La Espada using sustainable sources.
'we believe materials have hidden messages. these create a powerful link to our emotional psyches and shape our connection to daily life. we relish the warm and the synergy of the heart and head' –STUDIOILSE
Low Settle, $2,975.00
Overall: 78 1/8″ L x 20 1/5″ D x 37 2/5″ H
Seat: 70 7/8″ L x 16 4/7″ D x 16 7/8″ H

Settle Bench, $2,975.00
Overall: 80 5/8″ L x 21 3/7″ D x 51 4/7″ H
Seat: 70 7/8″ L x 16 4/7″ D x 16 7/8″ H
Originally posted Aug 9, 2010.
Available from
The Future Perfect
, 2,195.00.