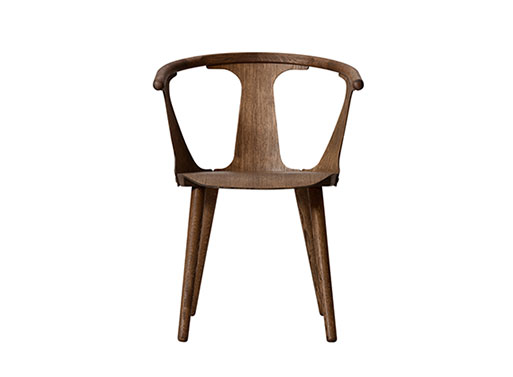 You might sense a resemblance to Hans Wegner's Wishbone Chair in the curved back rail of this chair, and you'd be spot on, as designer Sami Kallio has a high regard for the world renowned Danish designer. Kallio's chair occupies a certain 'in between' place in method of manufacturing as each one is hand and machine made. Ash and oak, the two options, both respond quite well to woodturning, more of classic hand-held lathe technique, and compression molding, a technique that allows for strength despite an overall lightness. The back and side panels provide support as well as a nicely contrasting visual gap.

Designer: Sami Kallio
Produced by &Tradition in Copenhagen.
Material: Wood, form-pressed veneer
Dimensions: 30″ h x 23″ w x 21 d (76x58x53cm)
Seat height: 17″ (45cm)
From our archives; originally posted Jul 24, 2013.
Available from
A+R Store
, $630.00.