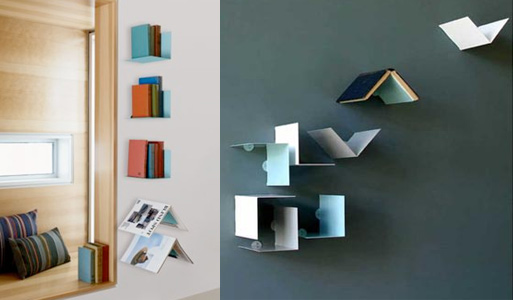 Whoa, check out the sale on these shelves (sale until March 18th I think). Update: not available.
Brothers Christopher and Paul Massie launched their studio, Massieoffice, in 2003, and are now recognized as being on the forefront of Canadian design. Their Flying Vee Shelves (2006) demonstrate this forward thinking with simplicity and versatility. The individual shelves (which come in sets of five) can be oriented to any angle and can be used to hold books, CDs or DVDs, artwork, flowers or anything else that can benefit from creative display. Made from steel with a durable powder-coated finish, these shelves offer a unique approach to storage. All hardware included.
H 6.5″ W 6.5″ D 9″
Update: not available.
Set of five, $130.00 Now: $50.00, Buy it here. Update: no longer available.