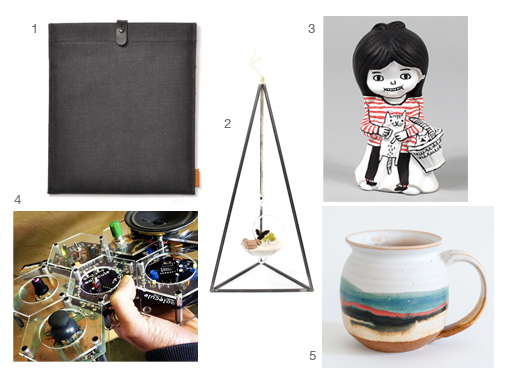 Wait! Here's one more gift guide, just in time for holiday shipping. Warning: There's oodles of Portland Oregon / Pacific Northwest love all over this post.
1. Ipad Sleeve by The Good Flock. Sure the Apple magnetic sleeve is nice… but waxed denim! Come on! Made in Portland.
2. Never actually wanted to own a terrarium until I saw these stunning handmade steel and wood ones from Arc & Ash. Made in Portland.
3.  Fell in love with these majorly cute ceramic ornaments at Gemma Correll's opening at Land Gallery. I'll take the whole set please.
4. Â Molecule Synth. A snap-together modular synthesizer, designed to be infinitely changeable. Made in Portland.
5. Hues and blues from this collection of ceramics from Mociun.
6. Well it's the new year, you need a new calendar. Stay in-tuned with the our lunar neighbor with this screen-printed Moon Calendar.
7. Simple and forever-lasting Falcon enamelware tumblers from Hand-Eye Supply, Portland's storehouse for design nerds.
8. Cards Against Humanity. "A party game for horrible people". What can I say? I totally want this.
9. From North St Bags, a clever waterproof bicycle pannier that converts to a backpack, a must have for the year-round commuter. Made in Portland.
10. Tombox: Vintage stereos get new life as battery-powered portable amplifiers.
Tags: Gift Guides, Gifts