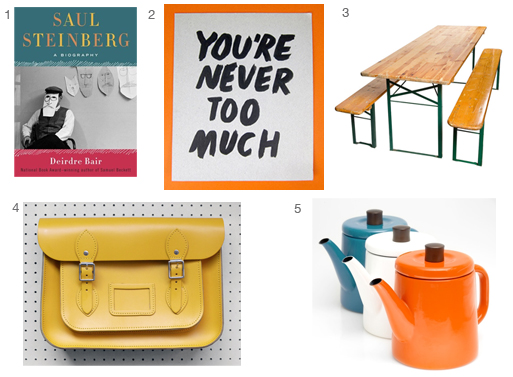 Kate Bingaman-Burt is an illustrator and educator. She has been making work about consumption since 2002, teaching since 2004 and drawing until her hand cramps since 2006. I never met anyone who works harder than Kate, and oh yeah, she just happens to be the nicest person ever. Here are her ten very colorful gift ideas for anyone in the creative professional field or has an appreciation for great design.
1. Biography on acclaimed New Yorker illustrator Saul Steinberg.
2. Custom hand-lettered posters from illustrator Nicole Lavelle.
3. A vintage German beer hall table for entertaining parties both large and small.
4. A very marigold school satchel.
5. Colorful Japanese kettle.
6. Gift certificates to Portland Oregon's finest purveyors or art and books. Reading Frenzy, Palace, Monograph Bookwerks, Ampersand, Division Leap, Floating World  Comics
7. A capture-it-all wall organizer. In red!
8. Utilitarian and gorgeous ceramic ware from B. Fiess.
9. Warm and mega stylish knitwear by Annie Larson.
10. Useful and nicely-priced iPhone cases.
Tags: Gift Guides, Gifts