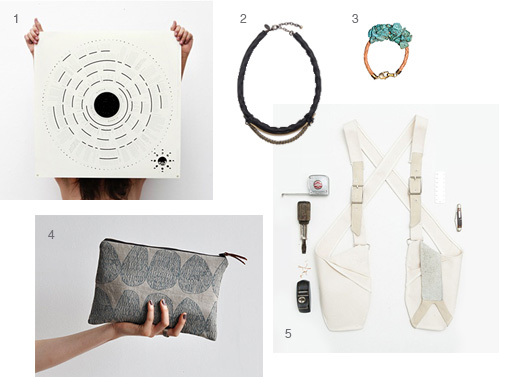 Lindsay Pulsipher is known for her roles as Roseanna McCoy on the History Channel's mini-series, Hatfields & McCoys, and as Crystal Norris on HBO's True Blood. She also has the lesser known role as being one of my BFFs and nicest person ever. She sat down with us to give us her holiday wish list.

1. 2012 Naturalist Almanac, $43.00.
2. Ecliptic Collar, by Annie Costello Brown. $204.00.
3. Bracelet Avalanche by Valentine Gauthier. € 50.00.
4. Pouch from Bookhou. Note: Shop re-opens Jan 1.
5. Tool Holster from Free Time Industries.
6. Short Crossweave Necklace by Annie Costello Brown. $189.00.
7. Origami Paper Lamp Shade. CAD $50.00.
8. Chip Coffey Coffee Mug, $10.00.
9. Printed ikat cotton over-sized shirt.
10. Faraday borosilicate glass and maple tea service, concept project.
Lindsay co-stars in The Rambler with Dermot Mulroney, which will premiere at the 2013 Sundance Film Festival.
Tags: Gift Guides, Gifts