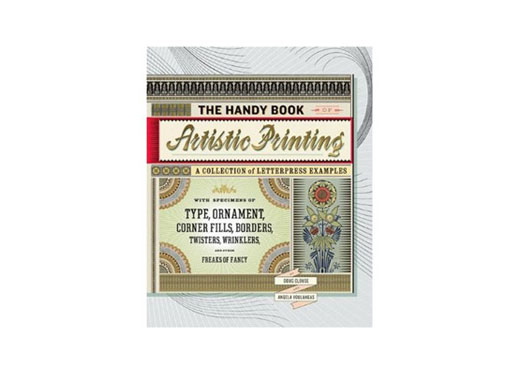 Man, this book is chock-full of late nineteenth century letterpress design. I tend to lean towards simple design, but there is something altogether fascinating in the full-on fanciness of that period. Whether you like intricate embellishments in your graphics or not, this book does provide a context for the rise and fall of this particular aesthetic, which (don't you know) all ties into the trends and preferences of today. It's also interesting to see how both artistic printing andlate nineteenth century interiors share a "penchant for spatial saturation, eclecticism, and excess." (pg.172)
Authors Douglas Clouse and Angela Voulangas explore the style's origins in the British Aesthetic Movement and analyze its distinctive features: idiosyncratic color harmonies, eclectic choice of type and ornament, compartmentalized compositional strategies. They also present a landmark portfolio of letterpress printing samples, drawn from some of the most important public and private print archives. More than 150 examples of period ephemera, printers' own tour de force promotional pieces, and specimens of type and ornament are reproduced, many for the very first time since their initial circulation more than a century ago.
$40.00 (£23.50), Buy it here.