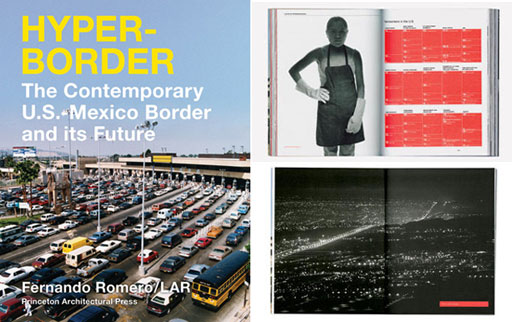 Man, if you want to know more about the issues surrounding the U.S.-Mexico border, this book is for you. Sure, we hear about illegal immigration, from occasional media sources to the debates of recent political primaries, and unfortunately that's probably the extent to which we bend our ear to the whole messy subject. This might be fine for some members of the general public, but for those of you that want a much broader overview of the concerns, Hyperborder is a good place to start.
With a staggering amount of facts and figures, it provides a thorough nonpartisan look at issues surrounding this region and how each country has become increasingly interdependent on the other. Future scenarios highlight possible outcomes (good and bad) while visual graphics help streamline data; making information more applicable and easier to absorb. Perhaps it's not bed or beach side reading, but it is a valuable source of information surrounding border issues, which is fast becoming a subject too large to ignore.
"The U.S.-Mexico border is the busiest, and among the most contrasting international borders in the world with over one million crossings daily. It is a dynamic site that encompasses modern global issues that range from migration to trade to international relations to national sovereignty, making it a HYPERBORDER. Considering the United States and Mexico are the leading immigration and emigration countries in the world and that by 2050 Hispanics will represent 25% of the U.S. population, both nations will need to re-evaluate their political, economic, and cultural relations as this demographic shift takes place." -hyperborder.net
a couple of quotes:
"More than 3,000 registered deaths are estimated to have occured in the ten-year time frame beginning in late 1994 when Operation Gatekeeper began…and around 1,000 unidentified migrants. About 1.5 times as many people have died on the border since its militarization process becan in 1994 than those who perished in the 9/11 terrorist attacks."-pg.181

"Currently the Latino community in the United States is growing at a rate almost five times that of the general population, a demographic explosion that is further increasing the group's economic clout."-pg.108
Also, check out Judi Werthein's Brinco [Sneakers], which were designed especially for migrant workers crossing the border between Mexico and the U.S.
[images on right via metropolismag.com]

[posted by katie]